Tigerwood Hardwood decks are trending among discriminating homeowners because they are gorgeous, durable and more affordable than you might realize. For less than the cost of a composite deck, your home can be outfitted with the stunning addition of a tigerwood deck that has a higher "wow" factor and will last longer.
This tigerwood deck buying guide gives you comprehensive information you can use to compare this tropical hardwood material with your other favorites, whether ipe, composite, redwood, cedar or other popular decking material types. We cover them all and more, making it easy to research decks in just one place. Deck prices, pros & cons and factors to consider with each material are presented. Let's jump in!
---
What is Tigerwood Decking?
This beautiful wood is grown in sustainable and managed forests from southern Mexico south through Central America and South America. Tigerwood is also called Brazilian Koa and Goncalo Alves along with many regional names. It's a hardwood, so it has a durability unmatched by pine, even pressure treated southern pine.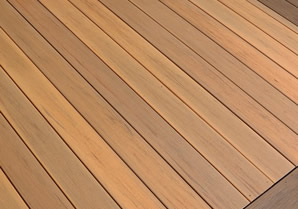 Aesthetically, the wood is an undulating blend of light orange to deep, ruddy red with streaks of brown to black. Like all woods, it is available in grades, with clear, knot-free wood being the most desirable and therefor most expensive.
What makes Tigerwood (Latin: Astronium fraxinifolium) such a suitable deck material is its high resin content which, like the resin in cedar and redwood, makes it very resistant to moisture, rot and insect infestation.
Tigerwood forests are quite sustainable, and the trees grow to usable size in 25 to 35 years. The specie isn't endangered, and most countries where it grows control harvesting, so that the forests are not depleted.
Like ipe, tigerwood is extremely hard (Janka rating: 1850), so it resists scratches, dents and chips. It is hard enough to use in furniture and both residential and commercial flooring.
Tigerwood tropical hardwood does not require sealing or staining, though some contractors do recommend application of a sealer on a yearly basis that contains UV-inhibitors to help prevent the wood from fading. When not stained, tigerwood will gradually fade over the years. However, the process is slow, and the wood will resist splitting and cracking.
---
Things to Consider when Choosing Tigerwood Decking

Consider first the reddish color of Tigerwood hardwood. Will its tones look good with the siding you have on your home? It might clash, for example, with traditional red brick or stucco tones in the peach to red tones. However, tigerwood tropical hardwood looks fantastic with light and neutral-colored siding.
If you're concerned about the ecofriendliness of tigerwood, it is a better choice than pressure treated lumber because it isn't saturated with chemicals. As a hardwood, tigerwood can be reclaimed and repurposed (a growing industry) when it's past its prime as a deck material.
When you shop for tigerwood decking, you can ask the retailer whether or not the wood has been harvested from managed forests. The retailer may be able to provide you with certification from the Forest Stewardship Council (FSC) or similar agency.
As a hardwood, tigerwood decking installation goes slower than softwood installation. This is because most holes will need to be pre-drilled to prevent cracking the wood. This will add to the cost. Deck Installation costs are shown below.

---
Advantages of Using Tigerwood for your Deck
There are tigerwood decking pros & cons to consider. Here are its benefits, many of which have been pointed out already.
Beautiful wood tones create unique visual appeal
Durability of 30+ years with resistance to rot, insects, splitting, dents, scratches and chips
Ideal for all climates
No sealing or staining is required, but can be sealed and stained to prolong the color
Resistant to warping or twisting
Low to moderate maintenance (see below)
FSC-certified tigerwood is available
Has a Type 1 / A (excellent) fire rating
Disadvantages of Using Tigerwood for your Deck
There are just a couple of potential drawbacks to tigerwood decks.
The dark color absorbs heat, so it can feel hot to bare feet
Tigerwood decking costs significantly more than pressure treated lumber and cedar (but it will last much longer too)
Installation time is slower and slightly more difficult than installation of softer woods, so the price of installation is higher
---
How Much Does a Tigerwood Deck Cost?

Let's answer your tigerwood decking prices question. As with most hardwoods, tigerwood is available in good/better/best grades. The clearer the wood – meaning it is free of knots – the higher the price.
Decking certified by the Forest Stewardship Council is slightly costlier. Finally, standard, pre-grooved and tongue & groove planks are available. These factors account for the price ranges in the tables below.
Tigerwood Deck Costs
Tigerwood Dimensions
 Tigerwood Cost Per Linear Foot
1" x 4" tigerwood decking
$2.25 – $3.00
 1" x 6" tigerwood decking
$2.45 – $4.35
 5/4" x 8" tigerwood decking
$7.00 – $8.50
 5/4" x 10" tigerwood decking
$7.45 – $9.50
5/4" x 12" tigerwood decking
$8.25 – $9.75
Now, let's convert these dimensions into square feet and come up with prices. The above tigerwood decking costs are just for the planks. We need to add in rails, spindles, posts, fascia, stairs and accessories to give you an idea of the cost of a finished deck. Decks near the ground might not need railings, so check your local community's building codes.
| | |
| --- | --- |
| Material / Labor  | Cost Per Square Foot |
| Tigerwood Material | $8.00 – $15.00 |
|  Labor | $5.00 – $9.00 |
Tigerwood deck cost is affected by factors for both the material and the installation:
The better the grade of wood used, the higher the cost. The grade mostly affects appearance but might have a slight effect on durability too
Simple rectangular decks cost less to install than those with complex designs featuring additional corners or rounded areas
A deck that is low to the ground might not need railings, and if it doesn't, then material costs will be

$2-$5

lower per square foot depending on the material and deck design
A deck built buy a handyman will cost less in labor than one built by a professional deck builder – simply keep in mind that you often get what you pay for, and installation quality will affect the appearance, performance and safety of any deck
Having a deck built during peak seasons for deck contractors will cost more than one built when they are less busy


Deck repair goes more slowly than deck construction, so costs are higher. Here's the cost for the material and the repairs.
| | |
| --- | --- |
| Tigerwood Repair Costs | Cost Per Square Foot  |
|  Tigerwood repair costs | $16 to $26 |
---
Top Tigerwood Deck Brands
You'll get good-quality material when you shop for these tigerwood deck brands:
TigerDeck (available online and at some local retailers)
TigerwoodDecking.com (online sales)
Overseas Hardwoods (sold at Menards)
Premium Brazilian Hardwoods
RealWood
---
Maintenance and Care of a Deck Built with Tigerwood
This is a low-maintenance deck material that will last 20 years with no maintenance. If you'd want to get 30+ years from it (perhaps 50!), these tigerwood deck maintenance tips will help.
If you do seal tigerwood, use a product with UV inhibitors to prevent color fading
To stain the tigerwood deck, a water-based stain is preferred, since an oil-based stain might not dry properly (so will be sticky) because tigerwood has so much natural resin
Sweep your deck regularly, including under mats, to remove debris that can act like sandpaper on the deck when walked on
Don't allow wet mats or planters to remain on the deck; move them for drying
Power wash your deck every few years and before sealing or staining, but use a light setting (less than 1,500 psi)
Inspect your deck every year to look for loose fasteners, rails, stair treads, etc. that need repair
---
Tigerwood Deck FAQ
This tigerwood decking Q&A answers a few common questions.
What decks cost less; what decks cost more?
Pressure-treated wood and cedar cost less. Redwood and ipe are very similar in price. Aluminum will generally cost more, depending on what grade of materials used. The same is true with composite.
Can tigerwood decks be built on a pressure-treated frame?
It depends on the local climate. Tigerwood is more dimensionally stable than treated pine, so the expansion and contraction of the pine might cause issues with the fasteners pulling out. Check with your deck installer to see if this is possible. Of course, if the framing is going to show, as in an elevated deck, you'll want to use tigerwood for the frame.
I want a low-maintenance deck. Will tigerwood work?
You don't have to do anything to tigerwood, though not sealing or staining it will mean it will fade faster. An aluminum or composite deck would not need maintenance other than regular inspection, and there would be no negative consequences.
---
Looking for a Deck Installer or Deck Repair Pro?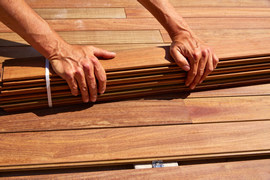 If you're going to invest in a gorgeous but expensive decking material like tigerwood, it makes sense to have the deck professionally installed. Proper installation enhances the looks and ensures that the deck is safe.
If you're ready to get deck estimates for tigerwood or any other material, we can help you find a qualified deck builder. Our service is free, and there is no obligation.  The deck professionals who use it are screened. You'll receive competitive written deck estimates and have the chance to ask each deck contractor about their experience and qualifications. It's the no-hassle way to get free estimates from some of the top deck builders in your local area.

---
Related Deck Cost Comparisons