A Composite deck is produced to mimic the look of wood in color and texture without the maintenance challenges wood presents. In recent years, composite has become popular with homeowners because it requires little or no maintenance, looks fantastic for decades and can be expected to perform well for a long time. Just how long it will last isn't yet known. Composite decking hasn't been around long enough to reveal its lifespan.
While composite decking prices are higher than some of the most affordable decking materials, its benefits make it a good value in the long term.
---
What is Composite Decking?

Composite decking is made from a blend of equal parts wood fiber and plastic. The materials are mixed with colorants, preservatives and UV inhibitors to prevent fading. The mixture is heated, and the boards are extruded. A texture is cut or pressed into some composite materials while cooling.
The result is a durable material that requires little maintenance. Most composite decking manufacturers (e.g. Trex, TimberTech, Envision) produce good, better and best lines to reach a broader range of consumers.
For the environmentally conscious homeowner, much of the wood and plastic used in today's composite decking is recycled from pre- and post-consumer materials. The largest manufacturer, Trex, uses more than 7 million pounds of recycled plastic every year. Most of it is recycled plastic jugs and shopping bags.
Also Composite deck boards are available in several dimensions, though most are about 1" thick and 5.5" to 12" wide. Boards with nominal dimensions of 1"x6" are the vast majority.
---
Things to Consider when Choosing Composite Decking
Since the decking costs more initially than cedar or PT lumber, it might not be a cost-effective choice if you plan to move in the next 3-5 years. However, since you're not having to rent or buy a power washer, use expensive cleaners and stain and/or seal it every two years, composite is a better long-term value than those materials.
If you plan to stain your composite deck, it is advised that you wait three to four months to allow the initial fading to occur. The stain will penetrate better at that point.
Premium composite decking is typically finished with a plastic coating that enhances its durability and resistance to fading. Veranda ArmorGuard, for example, is called "capped composite" which is a term for being coated. Trex Transcend, Trex Select and TimberTech Earthwoods are similar product lines.

---
Advantages of Using Composite for your Deck
There are pros & cons of composite decking to consider. Here are its benefits:
Is produced in a wide range of colors, textures and price points
Maintenance includes occasional washing, but no staining (though some composites can be stained, if you desire)
Won't rot, splinter or attract insects
Is structural strong, so won't warp, bend or come loose from fasteners easily
Is resistant to fading in sunlight
Requires very little repair
Provides good performance for decades
Burns, but at a much higher temperature than most woods
Includes 80% or more recycled material including all the wood used (most brands)
Includes a warranty of 25 years to lifetime
Boards up to 20" reduce cuts and seams
Disadvantages of Using Composite for your Deck
There are a few cons of composite decking to keep in mind:
Requires a higher initial cost than pressure treated pine (but less than ipe and tropical hardwood)
Prone to scuffing from dog claws, furniture being dragged across it and walking on it when the deck is sandy
Looks like plastic made to mimic wood rather than wood
Gets hot in direct sunlight
Can stain easily from grease and food
The wood can leach tannins that stain the decking, but do fade with time
---
How Much Does it Cost to Build a Deck Using Composite?

Composite decking material is available in several quality levels, these can range depending on the Decking Brand you use e.g. Trex, Timbertech.
Here's a look at prices for boards 6" wide:
Composite Deck Costs
Composite Quality Level
Composite Cost Per Linear Foot
Good
 $2.25 to $3.60
Better
 $3.25 to $4.85
 Best
 $4.50 to $6.85
Did you know that most decks finished with composite decking start with a pressure treated frame? This reduces costs. Here are composite deck prices when stairs, rails, posts, spindles and accessories are factored into the estimate.
| | |
| --- | --- |
| Composite Material / Labor  | Cost Per Square Foot |
| Material | $6.75 to $14.75 |
|  Labor | $4.75 to $9.95 |
The composite deck estimates you receive will be based on:
The quality of the decking material you select
The complexity of the deck-those with deck stairs, creative deck designs, elevated deck sections or multiple elevations cost more than simple rectangles
A deck built by a professional deck builder will cost more for deck labor than one built by a handyman, and you typically get what you pay for in installation quality
Decks built during the peak building season where you live will cost more


Deck repair costs more than building a new deck because boards need to be removed before being replaced, and there might be structural repairs required too.
| | |
| --- | --- |
| Deck Repair Costs | Cost Per Square Foot  |
| Composite deck repair costs | $8.25 to $14.95 |
---
Top Composite Deck Brands
These are the leaders in the composite decking industry.
---
Maintenance and Care of a Deck Built With Composite
There's very little maintenance required with composite decks. These composite decking care tips will prolong the good looks of your deck.
Wet the deck with a hose before cleaning
Clean the deck as needed with a gentle, ecofriendly cleaner and a stiff brush made from natural fibers
Clean up grease, food and pet stains immediately to prevent staining
If stains occur, mix a solution of mild dish detergent and warm water, pour it on the area, and allow it to stand for several minutes before removing with a soft cloth and rinsing
Never use abrasive cleaners on composite
Power washing is not required, but can be used to clean the deck
If you power wash your deck, use 1,500 psi with a fan-tip wand, and hold the wand at a 30-degree angle while spraying in the direction of the faux wood grain
Shoveling snow from the deck is not recommended, though a broom can be used
Either rock salt or calcium chloride can be used to melt ice on the deck without harming the composite, though both might leave residue that needs to be rinsed away later
---
Composite Deck FAQ
This brief composite decking Q&A covers common questions.
I had a composite deck built in 1998, and it looked bad within a decade. Is the new composite better?
New generation composite decking is coated (capped or wrapped in industry terms) to resist scratching and fading, and the UV fading inhibitors are better. The appearance of most products has improved too, with more color and texture options.
Do holes have to be pre-drilled in composite?
No, not in most composite products.
What fasteners are used with composite decking?
Deck screws of various lengths are used as the primary fastener. Glue can be used as a secondary fastener.
Since composite is made from recycled material, why does it cost more than cedar or PT lumber?
The recycled materials must be processed for use in decking first. Then, pigments are added, and the mixture is heated and extruded. The manufacturing process is more complex than in wood decking production.
---
Looking for a Deck Installer or Deck Repair Pro?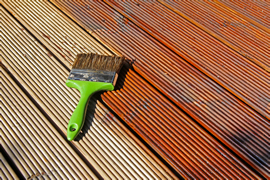 A deck that isn't built properly won't look good and might not last as long. In short, the quality of the installation has a lot to do with how much enjoyment and how little hassle your deck gives you.
When you're ready to hire a qualified deck builder in your area, we can help. The service we offer is free, and there is no obligation. All you need to do is to fill out one quick form providing the basics of the project.
You'll receive written estimates from three pre-screened deck installation companies where you live, and they know they're competing for the work. It's an excellent way to find the right combination of experienced and affordable composite deck installation.

---
Related Deck Cost Comparisons