In terms of percentage, redwood isn't the most widely used deck material. However, in terms of beauty, a redwood deck is unsurpassed.
A redwood deck is one that is finished in redwood – meaning the decking, stairs, rails and accessories are made of redwood while the support structure is built from pressure treated lumber, steel or other deck material. When you choose redwood, you'll enjoy:
A luxurious, richly colored deck
Excellent durability with wood that resists warping
Better affordability than you might expect
These are just a few of the many reasons homeowners give for installing a redwood deck.
This redwood deck guide is full of reliable information about redwood's pros & cons, price, care and maintenance and much more. Our readers use this deck guide to compare redwood decks to cedar decks, pressure treated decks and those made from other deck popular materials.
In addition to comprehensive redwood deck information, we can help you find a deck builder where you live to install the deck of your choice at the lowest prices in your area.
---
What is Redwood Decking?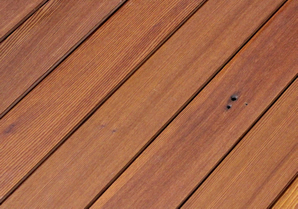 This deck material is harvested from redwood trees native to California and a small section of Oregon. The timber is classified as either "heart" or "common." Wooded graded "clear all heart" is the choicest material, and it is therefore 50% to 100% more costly than common redwood.
Redwood decking is cut in several widths and thicknesses, and you'll find boards from 8 to 20 feet long. The wood is quite free of resins, so redwood accepts stain and sealer very well, enhancing both its beauty and its longevity.
---
Things to Consider when Choosing Redwood for your Deck

If you intend to live in your home ten years or more, using the more expensive but better "heartwood" grade is a cost-effective decision.
Redwood is not as abundant as cedar, and since it grows only on the West Coast, the material gets costlier the further East you live. For this reason, it is important to get estimates from local deck builders to know exact prices and to be able to compare the cost of redwood with the cost of cedar, pressure treated lumber, ipe and composite decking.
For best results, make sure that the wood you select has been kiln dried. This means that most of the moisture has been removed, and the wood will be less susceptible to warping as it dries.
The best fasteners for installing redwood decking are hot-dipped galvanized, aluminum and stainless steel.
Select a penetrating sealer with a mildewcide for best results.

---
Advantages of Using Redwood for your Deck
Here are the pros & cons of redwood decks. Let's take a look at the benefits for redwood first.
Redwood decks are uniquely beautiful with their rich, ruddy tones
The wood accepts stain evenly and allows deep penetration of sealer for excellent resistance to moisture
It doesn't heat up in the sun as readily as many other decking types, so it continues to feel cool under foot
Redwood is dimensionally stable which means that it resists warping, twisting and shrinking
The decking is cost-competitive with other quality deck materials
Decks crafted from heart-grade wood can last 40 or more years with proper care; those built with common-grade wood last 25-30 years when maintained
Disadvantages of Using Redwood for your Deck
There are a few redwood deck cons to consider too.
Redwood, like cedar and other wood, requires consistent care and maintenance to prevent moisture damage
Cheap grades of common redwood, also called sapwood, can be especially susceptible to rot if not sealed consistently
The wood is fairly soft, so it can be scratched, dented and gouged by sharp or heavy objects
---
How Much Does it Cost to Build a Redwood Deck?

Let's take a look at redwood deck prices, so you can estimate what your deck will cost and compare redwood deck costs with the price of others you're decks your considering.
The deck pricing begins with the cost of redwood decking.
Redwood Deck Costs
 Redwood Deck Dimensions
 Cost Per Linear Foot
 1.5" x 3.5" heartwood decking
$1.35 to $1.70
1.5" x 5.5" common decking
 $1.10 to $1.50
1.5" x 5.5" heartwood decking
 $2.00 to $4.50
1.5" x 7.5" common decking
$2.15 to $2.50
1.5" x 7.5" heartwood decking
 $2.55 to $3.75
1.5" x 11.5" heartwood decking
$4.00 to $5.25
Common and heartwood are the most common grades, but as you shop for redwood decking you'll see additional terms that fall within the common and heartwood categories. These include STK (selected tight knot), sapwood, sap B, construction heart, construction common, near clear, heat B, clear and clear all heartwood.
Note: Some companies will refer to redwood decking as 1.5" or 1 ½" thick while others might refer to the same thickness as 2". The same is true with widths, with 5.5" being the same as 6".
Now, here are redwood deck costs that include all the materials required from the non-redwood substructure to the redwood decking, steps, rails and accessories.
| | |
| --- | --- |
| Redwood Material / Labor  | Cost Per Square Foot |
| Redwood Deck Material | $9 to $14 |
|  Labor / Installation | $4.35 to $8.50 |
The factors that affect cost include the following:
The grade of the decking is the most significant factor in the materials cost, with better grades costing more.
Complex designs with stairs cost more to build than simple designs.
During peak seasons for deck builders, their prices are higher.
You'll get the lowest deck estimates for redwood decks when you request estimates from several deck contractors in your area. Getting multiple estimates from competing companies allows you to find a qualified deck builder at the best price.

Repairing redwood decks is costlier than building new, since removing old wood and fitting in new pieces is required.
| | |
| --- | --- |
| Repair Costs | Cost Per Square Foot  |
|  Redwood deck repair costs | $13.50 to $20.00 |
---
Top Redwood Deck Brands
While these aren't the only brands, these producers are trusted by home improvement stores and deck builders everywhere.
---
Maintenance and Care of a Deck Built with Cedar Boards
These redwood deck maintenance tips will give you the most years of enjoyment from a beautiful, durable deck.
Wait one month to finish a newly installed redwood deck built from unseasoned wood. If a few drops of water sink into the wood, the redwood is ready to finish.
Sanding the wood prior to finishing it opens the grain to allow for deeper penetration of the sealer. Always use a penetrating sealer when finishing redwood. One with tint in it will deepen the color of the wood while adding more protection against the wood fading in the UV rays of the sun.
A coat of penetrating sealer without tint will keep the wood its natural color, which you might find the most attractive, but it won't provide UV protection.
DO NOT use varnish or polyurethane finishes or pure-oil treatments such as boiled linseed oil on redwood. Oil-based finishes that contain mildewcide and UV protectant are an excellent choice for redwood.
Power washing and resealing the deck every one to three years is an important part of redwood deck care.
---
Redwood Deck FAQ
This redwood decking Q&A covers additional information that will allow you to maintain your deck's beauty and durability.
Do you have any power washing tips for redwood?
Since redwood is relatively soft, never use water pressure exceeding 1,200 psi. The machine and water source you use should be capable of delivering 4 gallons of water per minute. Before you power wash, check the condition of, and make repairs to, flashing or caulking where the deck meets the house.
How often should I reseal my redwood deck?
In drier climates, every third year is usually sufficient. In wetter climates, every year or two is recommended.
Is redwood decking renewable and sustainable?
The redwood decking industry promotes this material as both renewable and sustainable. However, most old-growth woods have been cut down, and those that remain are protected. Today, the vast majority of redwood decking comes from tree farms. Old-growth, protected forests are enjoying a comeback of redwood.
Can redwood be painted?
Paint is not a good covering for redwood, even paints formulated for shingles and shakes. It simply coats the wood rather than penetrating deeply into it. The result is that it peels off in a few years.
I used an oil-based sealer on my redwood two years ago, and it keeps getting darker. What's happening?
One of the drawbacks of oil-based penetrating sealers is that they hold dirt. Consider power washing the deck keeping the precautions in mind we included in an earlier question. For those who haven't sealed their redwood deck yet, consider a water-based penetrating tinted sealer. Water-based products don't hold dirt as much as oil, but they don't last as long, either, so you'll have to reseal annually.
There are dark spots on my redwood deck around the screws. What are they, and what can be done about them?
The tannic acid in the redwood is reacting with the metal in the screws, and the dark staining is the result. Power washing might remove the discoloration.
---
Looking for a Deck Installer or Deck Repair Pro?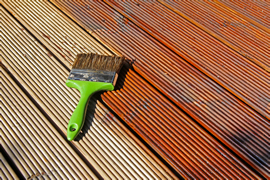 Our goal is to provide you with comprehensive deck information you can use to choose the right material and build a deck you'll love in the years to come. The quality of the deck installation is a major factor in how good it looks, how safe it is and how long it lasts.
Therefore, we want to help you find a deck builder in your area that will do a fantastic job.
Feel free to use our convenient, free service that requires filling out one simple form. You'll receive free written estimates from three qualified deck contractors who have been screened for experience. There is no cost or obligation for using the service.

---
Related Deck Cost Comparisons