Pressure treated lumber remains the number one material for deck construction because it has the right combination of:
Handsome wood appearance
Low cost
Excellent durability
Did you know that many decks finished with other deck materials have frames built of pressure treated lumber due to its dependability?
This deck guide to pressure treated wood decks gives you deck ideas and information you can use to decide if this is the best material for your project.
Compare pressure treated lumber to cedar, redwood, IPE, composite, aluminum and other materials featured in our deck installation guides.
We cover the pros & cons of pressure treated lumber, the costs of the deck material and deck installation and how to save money on deck construction. If you're looking for a deck builder, we can help you find a qualified, pre-screened contractor where you live.
---
What is Pressure Treated Lumber?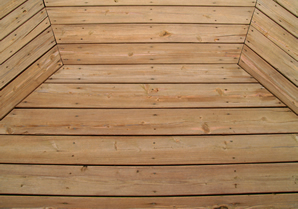 Often referred to as PT lumber by deck builder professionals, it is used in more than 70% of the decks built in the United States. That's a hefty piece of the deck material pie.
Pressure treated lumber is mostly made from pine, with southern yellow pine being a top choice. Chemical preservatives are forced into the wood using vacuum pressure in a closed cylinder.
The purpose of the preservative is to ward off rot, fungus and insects that feed on cut timber.
There are four common chemical formulas used in PT lumber:
Alkaline copper quaternary (ACQ)
Copper azole (CA)
Micronized copper quaternary (MCQ)
Micronized copper azole
---
Things to Consider when Choosing Pressure Treated Lumber for your Deck

If this is the deck material you choose, these pressure treated wood deck tips will allow you to have the best experience possible.
Use lumber graded premium, choice or select to reduce the possibility of warping and cracking. You'll pay 15% to 30% more for the deck material, but the deck will look good for a longer period of time.
Fastener holes within two inches of board ends should be pre-drilled to prevent splitting.
Plan a regular schedule of deck maintenance for your deck that includes power washing every year or two and applying a stain formulated with a good sealer.
Expect to replace your PT lumber deck in 12-15 years, possibly sooner where the weather is very hot and dry.
If you dismantle the deck in the future, plan the proper disposal of it with your waste management company. PT wood should not be burned, because burning it will release harmful pollutants.

---
Advantages of Using Pressure Treated Lumber for your Deck
There are many reasons that deck builders prefer PT lumber above all other deck materials. So let's look at the pros & cons of pressure treated lumber decks:
Pressure treated wood is very strong and durable and should last 12-15 years with proper maintenance
It costs less than most other common decking materials
Pressure treated lumber offers proven protection against termites and similar wood-destroying pests
You can sink PT wood posts into the ground without concern for deterioration
If you've got shady areas that are wet much of the time, PT lumber will resist rotting
It is easy to cut and fasten together
The material is readily available throughout the US
Decking is produced in planks 2"x4", 2"x6" and 5/4"x6"
Disadvantages of Using Pressure Treated Lumber for your Deck
Pro deck builders offer a few cons of pressure treated wood decks to consider:
Some preservatives corrode standard screws, so stainless or coated screws must be used
Poorer grades of pressure treated lumber are more prone to warping and splintering than cedar, redwood, IPE or composite
Decks require regular washing and staining to ensure good looks and performance
---
How Much Does it Cost to Build a Pressure Treated Lumber a Deck?

Let's take a look at pressure treated lumber deck prices for the material, installation and repairs.
Lumber prices fluctuate on a yearly and sometimes seasonal basis. With that in mind, here are current pressure treated decking costs:
Pressure Treated Lumber Deck Costs

Pressure Treated Lumber Dimensions

PT Lumber Cost Per Linear Foot

2" x 6" lumber boards
$0.95 to $1.50
 5/4" x 6" lumber boards
$1.25 to $1.65
 2" x 8" lumber boards
$1.30 to $1.75
 2" x 4" lumber boards / railings
$1.00 to $1.25
Boards 2"x4" are typically only used for railings or the planks for very small decks.
Pressure treated deck costs: The material costs include all the lumber, fasteners, brackets, bolts and other supplies required to complete the deck.
| | |
| --- | --- |
| Material / Labor  | PT Lumber Cost Per Square Foot |
| Material | $6.25 to $13.50 |
| Labor | $6.25 to $10.75 |
There are several factors that affect these prices:
The better the grade of wood you choose, the higher the cost will be
Periodic wood shortages can increase the cost of material by as much as 50% or more
Decks with complex design and stairs cost more to build than those with a simple layout.
Decks built by professional deck builders rather than handymen will cost more (and the quality will likely be better)
Hiring a deck builder during the peak season will cost more than during times when they are less busy, and peak season where you live is based on the climate
The best way to get the lowest deck prices for the best work is to request written estimates from at least three deck builders that know they are competing for your business


If your deck requires repair, the cost for materials won't change significantly from what's been stated above. However, the labor rate will be higher. Repairs are always more time consuming – and therefore more expensive – than new construction.
| | |
| --- | --- |
| Repair Costs | Cost Per Square Foot  |
| pressure treated lumber deck repair costs | $9.50 to $15 |
---
Top PT Lumber Wood Brands
Some of the better PT lumber brands used by pro deck builders include:
Top Choice (Lowe's)
Georgia-Pacific
PT Lumber manufacturer websites are good places to find deck ideas for design and care. Some producers are regional while others sell PT lumber nationwide.
---
Maintenance and Care of a Deck Built with Pressure Treated Decking
The key to lasting enjoyment of your PT lumber deck is to take good care of it. These wood deck care tips will help.
Seal the deck within six weeks of installation to prevent it from absorbing water
Seal the deck annually
Apply stain every one to three years as needed to keep the deck looking good
Clean the deck every one or two years using a pressure sprayer and a cleaner designed for wood decking
Use low pressure in the sprayer to prevent damaging the wood
Allow the deck to dry thoroughly after cleaning, and apply sealer as soon as it is dry
Inspect the decking twice a year, and replace warped, split and cracked pieces as needed
Inspect fasteners, bolts and brackets twice a year, and tighten or replace those that have become loose
---
Pressure Treated Wood Deck FAQ
This Q&A covers additional important information.
Can pressure treated lumber be painted?
Most PT wood can be painted, though it's recommended that the wood be thoroughly dry before painting. In warm, arid environments, it might be dry enough to paint in several weeks after installation; in cooler, damp climates, it is recommended that you wait six months after installation to paint the deck. If you sprinkle a few drops of water on the wood, and it soaks in, then it is dry enough to paint.
What is required for paining pressure treated wood?
New lumber can be painted as soon as it dries. For older material, power wash the deck first, and allow it to dry. Use a primer formulated for wood decks, and plan to apply two top coats of deck-grade exterior paint.
What is KDAT wood, and why is it preferred?
The letters stand for Kiln Dried After Treatment. It is an excellent choice because wood that has been dried following pressure treatment is less prone to warping and cracking.
Does pressure treated wood contain CCA?
CCA is Chromated Copper Arsenate. The arsenate contains arsenic, as the name implies. For decades, CCA was the predominant chemical formula for pressure treating wood. In the early 2000s, the industry discontinued use of CCA, though it is unclear if using it posed any significant risk.
---
Looking for a Deck Installer or Deck Repair Pro?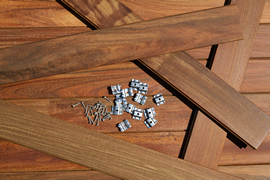 In addition to providing you with accurate, comprehensive deck information, we can help you find the right company to install or repair your deck.
Use our free, convenient service to receive three written estimates from local pre-screened deck contractors where you live, also view some of our deck design ideas.
There is no cost for the service, and you're not obligated to accept any of the estimates.

---
Related Deck Cost Comparisons