Within this Deck Guide we explain the deck railing types, deck railing styles, pros and cons and the Handrail codes standards that will need to met to allow a safe environment for your deck.
Why Have Deck Railing and Handrail Codes?
There are several reasons why builders have and must abide by codes, such as building integrity, integrating modern and efficient technologies and consistency—but at the core of it all is safety.
History has revealed the various issues, such as property damage and fatalities, that can occur when certain precautions are ignored or overlooked. As a result, standards are set in place to protect the health and welfare of all people, and codes for residential decks and their rails are no exception.
Deck railing and handrails are required by the International Residents Code (IRC) to establish a secure environment around the deck and the deck stairs. Having deck rails prevents people and animals from falling at various heights and acts as a safeguard against the wind. Handrails help users keep their balance going up and down the stairs, which minimizes the chance for falling.
For more information on the IRC, see the International Codes Council (ICC) website here.
---
Deck Railing Codes
Most states use or follow IRC codes in their state codes. For example, here are the standards for handrails and guards found in the current Michigan Residential Code, located in the IRC. You can use the link to find the codes for your state. Keep in mind that municipal codes may include additional standards or have varying measurements concerning the areas for which they are established.
Here are IRC Codes for deck railings and deck stair handrails.
Handrails:
7.8: Handrails must be provided on at least one side of a flight of stairs (four or more steps).
7.8.1: Handrail height is to be measured vertically from the tread of the step at the bottom of a staircase to the landing above the topmost step. The height cannot fall below 34 inches or be above 38 inches.

An exception to the rule: If the handrail fittings or bendings are used as continuous transitions between flights, between treads with non-parallel edges, from the handrail to a guard, or used at the beginning of a flight, the handrail height at the fittings or bendings may exceed 38 inches.

7.8.2: Handrails must be continuous for the entire length of the flight, stretching from a point directly above the topmost riser to a point directly above the lowest riser. Handrails must also be returned or terminated in newel posts or safety terminals.

Exception: Handrails may be interrupted by a newel post at the turn.

7.8.3: Handrail ends must be made to fit one of these types:
Type 1: A circular handrail should have an outside diameter of 1¼ inches at minimum and 2 inches maximum. A non-circular handrail should have a perimeter of 4 inches minimum and 6¼ inches maximum, and a cross section not exceeding 2¼ inches. The edge radius should be no less than 0.01 inches.
Type 2: Handrails with a perimeter greater than 6¼ inches should have a graspable finger recess on both sides of the rail profile. The finger recess should have a distance of ¾ inch measured vertically from the tallest point of the rail's profile, having a depth between 5/16 inches and ⅞ inches below the widest portion of the profile. The widest portion of the profile should be 1¼ inches minimum and 2¾ inches maximum. The edges should have a radius no less than 0.01 inches.
For a visual understanding of this information, see page 20 on this link.
Deck Rails (also known as guards or guardrails):
1.1: Guards are required along the open sides of a walking space, such as stairs, ramps, and landing platforms, that are located 30 inches from the floor or grade.
Insect screening is not considered a guard.
1.2: The height of a guard should not be shorter than 36 inches. (Do not confuse this measurement with the 42 inches standard stated in the International Building Code (IBD), which is for commercial decks attached to apartments or businesses.)
Exception 1: Guards on the open sides of stairs may be 34 inches high.
Exception 2: If the top of the guard is used as a handrail for stairs, the top should be no shorter than 34 inches high and no higher than 38 inches.
1.3: Guards should not have an opening from the walking surface that allows a sphere 4 inches in diameter to pass through.
Exception 1: Triangular openings at the open sides of stairs should not permit a sphere 6 inches in diameter to pass through.
Exception 2: Guards on the open sides of stairs should not permit a sphere of 4⅜ inches in diameter to pass through.
Guards should be able to withstand a linear load of 50 pounds per linear foot and a load of 200 pounds on top of it.
Railing Material:
3: Plastic composite deck stairs and handrails must be decay resistant, in accordance with the American Society for Testing Materials (ASTM) D702.
3.4: Plastic Composite deck stair treads, handrails, and guards must also be resistant to termites, in accordance with ASTM D7032.

---
Deck Railing and Handrail Materials with Pros/Cons
Those are the deck railing codes and deck handrail codes. Here are materials that can be used to meet those codes.
Qualifying deck railing materials include:
Aluminum
Pros: Lightweight, durable, and resistant to corrosion and rusting. Easy to install and come in several colors.
Cons: Has a modern appearance that will not match all decking styles. Can attract dust to its surface, is not easily painted, and it can dent.
Glass (Impact resistant/shatterproof)
Pros: Does not obstruct the view and are tempered for safety. It is low maintenance, and glass can be treated to reduce water spots. Some building companies may provide color tints.
Cons: May require frequent cleaning and the material can be costly, especially for shipping. Glass can chip and raise temperature on deck surface.
PVC / Capped Composite
Pros: Are often manufactured from recycled material, which is healthier for the environment. Made to last long, as it does not rust, stain, fade, or make dents. Low maintenance and retains its coloring.
Cons: Very expensive and is labor-intensive to install. It can appear bulky.
Stainless Steel (without cables)
Pros: Strong/durable and is easy to install. Also provides a contemporary look to the deck.
Cons: Heavy, making it difficult to work with, and despite the name, cheap stainless has the potential to rust.
Cable Railing
Pros: Low maintenance, durable, and easy to install. Does not obstruct the view and is customizable depending on the building company.
Cons: Moderately expensive, not child-friendly, and cables may not meet code depending on the residential area.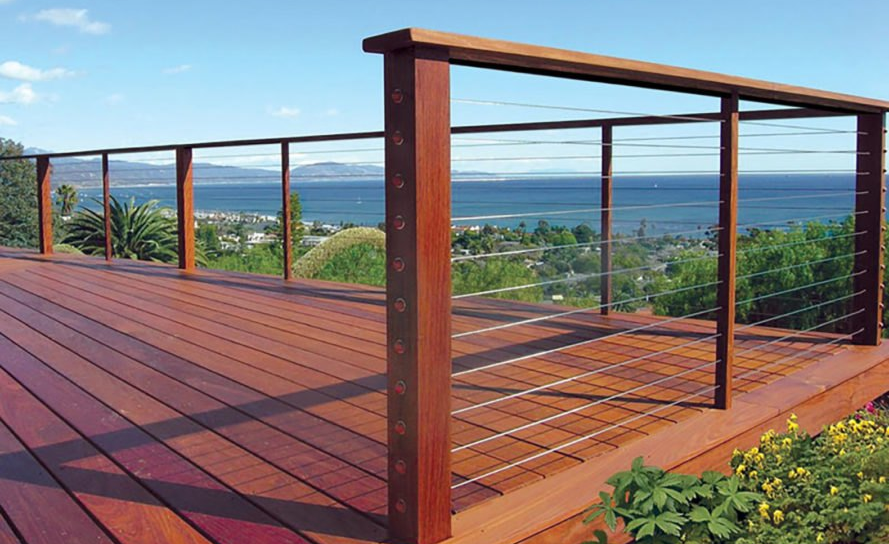 Vinyl (has similar qualities to PVC)
Pros: Low cost and maintenance. Lightweight and easy to install. Vinyl does not necessitate painting or staining.
Cons: Can appear cheap, has a limited palette of color options, and does not endure the winter as well as other railing materials.
Wood
Pros: Has a traditional, natural look. Most is inexpensive and can be stained or painted to match the deck.
Cons: Does not last as long as other railing materials, such as PVC, as it is susceptible to deterioration and splintering. The material requires high maintenance. It can warp, and it can obstruct the view more than some of the other options.
---

Deck Railing Designs
Having international and state standards does not mean the homeowner has to sacrifice creative thought.
Railings and handrails are available in a myriad of styles, from the Victorian age wrought iron to the modern aesthetic of composite. Each brand makes decorative caps and other accessories that allow you to customize your deck's appearance.
It should be noted that not every railing material will work for every design, which may force the homeowner to choose some materials over others. For instance, curved designs are often difficult to produce, as some materials are harder to bend than others. Wood, for example, is not as malleable as aluminum or PVC composite. But, for the homeowner's convenience, railing manufacturers do provide the supplies needed for customizable, creative choices.
Below are just a few railing design possibilities a homeowner can use:
Curved Railing: Having the railing curve around the deck will simultaneously break from the traditional deck style and invite a different dimension to the deck's aesthetic. Curved railings can also be used for staircases on elevated decks. As mentioned, because some materials are easier to bend than others, aluminum and PVC are common choices for these designs.

Aerial Railing: This is a type of curved deck rail that serves two deck levels. If the deck is dual leveled, it might feature deck railing that spirals (in an "s" shape or a semi-circle) from the top level to the base level, encompassing a seating area and/or fireplace within the curve. This style effectively maximizes the space while adding a unique beauty to the deck.

Cocktail Railing: This is a wider, flat railing surface that provides a practical addition for guests. Food, drinks, or handheld items of any kind can rest on top of the railing without fear of falling. If entertainment is a priority, this style is an easy choice.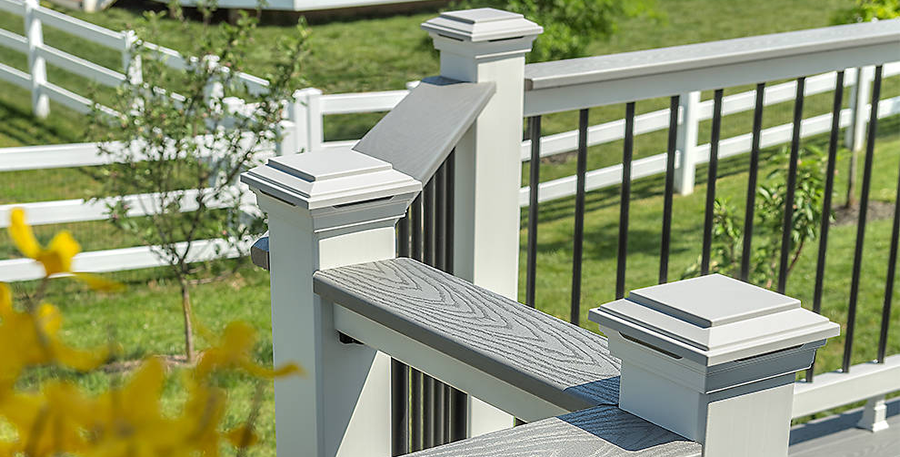 The homeowner should not forget to consider the types of balusters and post caps most fitting for the railing. In some cases, they may give the railing and deck a more distinctive appearance. For instance:
Glass Balustrade: Railing can be made to hold glass Balustrades. These allow for an unobstructed view and a modern aesthetic.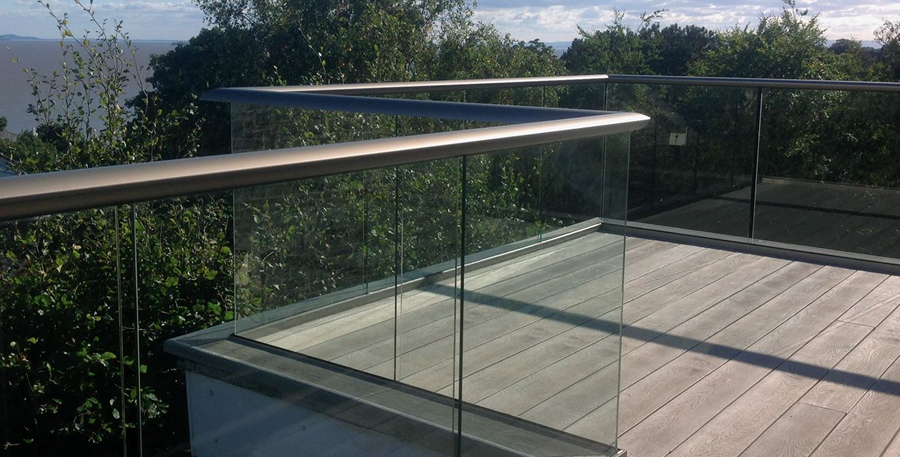 Baroque Balusters: Made of wrought iron, they project a European ambience that cannot be captured by other styles.

---
Prices for Deck Railing
Prices for railings are contingent on the chosen material and sizes. The chart below lists the costs per linear foot and for each provided material.
Deck Railing Costs & Prices
Deck Railing Material
Railing Cost Per Linear Foot
Aluminum
$45 – $60
Glass
$50 – $65
PVC/Composite
$45 – $60
Stainless Steel
$35 – $70
Cable
$40 – $60
Cedar
$30 – $40
Ipe
$33 – $45
Pressure-treated Lumber
$22 – $30
Redwood
$32 – $40
Tigerwood
$30 – $42

---
Related Decking Cost Comparisons by Deck Design