Several species of tropical hardwood are outstanding deck materials, and none is more enthusiastically received than ipe. Pronounced epay (rhymes with eBay), ipe is incredibly dense and hard, resistant to insects and rot and, best of all, is simply gorgeous.
This ipe deck buying guide provides comprehensive information about ipe pros and con, ipe deck prices, deck maintenance and much more. This guide and the others we've created allow you to compare ipe head to head with pressure treated wood, cedar, composite and the other materials you're considering.
---
What is Ipe Decking?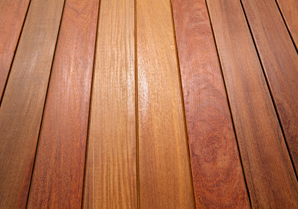 Ipe is a hardwood grown in Central and South America, with a large percentage of it coming from Brazil. The wood is sold under other names including Brazilian walnut and pau lope. It has earned the nickname "ironwood" due to its extreme hardness of 3,600 on the Janka scale (compared with 690 for PT lumber and 580 for western red cedar).
Due to its hardness, ipe is often used in commercial projects. Notable locations are the Atlantic City boardwalk and the Treasure Island Resort in Las Vegas.
The lumber is used in furniture and hardwood flooring as well as in decking. Deck builders give it high marks for stability, meaning it resists warping and twisting. Ipe has no visible knots to mar its beauty.
The preferred ipe (epay) decking is made from the heartwood, which is a rich olive brown that can be nearly black. Highlights of purple and slight striping are found in some ipe heartwood. Ipe sapwood is white, off-white or yellow, is not as dense and is not considered as premium a deck material as the heartwood.
Ipe decking is available in a wide range of sizes with 1"x4", 1"x6" and 5/4"x6 being the most popular dimensions.
---
Things to Consider when Choosing Ipe Hardwood Decking
The wood is very dense, so it doesn't take stain as readily as softer woods. Be sure to use a penetrating stain recommended by your ipe retailer or deck builder. If you just seal ipe without staining it, the wood will age to a silver/gray color.
The stain you choose should be water repellent and resistant to mildew.
Because fastener holes must be pre-drilled, it takes longer to build an ipe deck than a PT lumber deck. If you're hiring a deck builder, this might increase the cost.

---
Advantages of Using Ipe for your Deck
Many of this tropical hardwood's qualities have been noted. Here are the pros & cons of ipe decking starting with the benefits:
The natural beauty of ipe with its rich, deep brown to almost black tones
Naturally resistant to rot, insects and fungus
Extremely hard, so it resists dents and scratches
Rarely warps or twists
Has a Class A fire rating, that same as steel and concrete
Much of the ipe available is certified by the Forest Stewardship Council as grown using sustainable, ecofriendly practices
Will last 40+ years with standard maintenance
Can be stained to maintain color or clear-coated to allow it to age to a silvery gray
Disadvantages of Using Ipe for your Deck
There are a few concerns with ipe decking too:
---
How Much Does it Cost to Build a Deck Using Ipe?

These are the current ipe decking prices which will help you estimate the cost of your new deck, our deck costs below are listed for the its most popular dimensions.
Ipe Deck Costs

Ipe Deck Dimensions
Ipe Deck Cost Per Linear Foot
1" x 4" ipe decking
 $2.65 to $3.00
 1" x 6" ipe decking
 $3.30 to $4.00
 5/4" x 4" ipe decking
 $3.40 to $3.65
 5/4" x 6" ipe decking
 $5.25 to $6.00
Using these prices for ipe decking boards, total deck costs can be estimated. Keep in mind that the substructure of ipe decks is almost always pressure treated lumber.
When railings, stairs, posts and accessories are factored in, this is what you should expect from ipe deck estimates.
| | |
| --- | --- |
| Ipe Material / Labor  | Ipe Cost Per Square Foot |
| Deck Material (Ipe Wood) | $7.25 to $14.00 |
| Deck Labor | $5.00 to $9.50 |
There are several key factors that affect cost:
The higher the grade of wood that is used, the costlier the deck will be
Complex decks with stairs and multiple elevations cost more per square foot than simple deck
Decks built by a professional deck builder cost more than those built by a handyman, and you typically get what you pay for in deck construction
Decks prices are highest during the peak building season where you live

Deck repair is costlier than building a new deck, since old boards must be removed and structural repairs might be required.
| | |
| --- | --- |
| Ipe Repair Costs | Cost Per Square Foot  |
|  Ipe deck repair costs | $15.00 to $22.50 |
---
Top Ipe Brands
Look for these deck brands to ensure good quality material.
---
Maintenance and Care of a Deck Built with Ipe
When you follow a regular schedule of deck cleaning and deck maintenance, your deck will last 30-50 years.
Seal the deck after your deck installation with a product recommended by the decking retailer or the deck installer
Using a pigmented sealer/stain will help protect the deck against fading in sunlight
Sweep debris from the deck, especially debris that can trap water against it
Avoid using a mat on the deck, but if you do, choose a synthetic material, remove it and allow the deck to dry after rain and sweep under the mat regularly
Move planters frequently, especially those that drain water onto the deck
Power wash your deck every one or two years and re-seal and stain it
Inspect the deck for loose boards, treads, rails, etc., once or twice a year, and make needed repairs
---
Ipe Deck FAQ
This brief tropical wood and ipe deck Q&A covers commonly asked questions regards Ipe Decking.
How does ipe compare with composite decking?
The average cost for ipe is higher, the wood is harder than composite, so resists denting and scratching better. It weighs slightly more than composite, though both are fairly heavy.
Ipe requires staining and/or sealing every year or two while composite is maintenance-free. Ipe turns silver over time if not stained; most composite decking will fade with age. Expect an ipe deck to last 35+ years; composite decks should last 50 years, but they haven't been around long enough to know for sure.
Are there any other tropical hardwoods that cost less than ipe?
Cumaru, garapa and cambara all cost less than ipe decking, though don't offer the same hardness or durability.
---
Looking for a Deck Installer or Deck Repair Pro?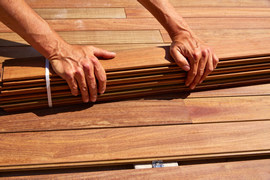 The quality of installation is an important factor in the enjoyment you receive from your deck because it affects appearance, durability and performance.
When you're ready to find a qualified deck builder where you live, we can help. The service we offer is free, and there is no obligation. Fill out one quick, convenient form with the basic information about your deck project, and you'll receive written estimates from three local deck installers that know they're competing for the work.

---
Related Deck Cost Comparisons