PVC plastic decking is a faux wood decking material complete with woodgrain texturing and available in a limited range of colors and styles. It is made to give your deck the look of natural wood without the issues wood can have such as warping, cracking, splintering and demanding a lot of care and maintenance over the years.
The upfront cost is more than woods such as cedar, redwood and pressure treated lumber, but not as expensive as some tropical hardwood decking. However, since the maintenance costs are minimal and you won't be buying stain and sealer every couple of years, PVC decks cost less when averaged over 20+ years.
This PVC decks buying guide gives you comprehensive information about PVC plastic decks, their cost, pros & cons of PVC decking and more.
Our readers use this guide to compare PVC decks with the other common deck materials and decking brands (e.g. Azek, Wolf Decking) and we've also created buying guides for other such as PT lumber, tropical hardwood, cedar, redwood and composite decking.
---
What is PVC Decking?
PVC is polyvinyl chloride, a very common plastic. Most of the material used in decking is called cellular PVC due to the structure of the plastic which makes it stable and resistant to cracking or warping.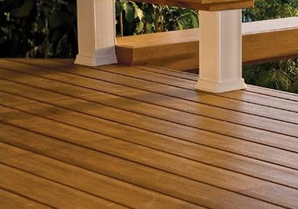 The PVC used to make this decking is mostly virgin plastic, meaning it hasn't been recycled. In that respect, PVC decking isn't as green as composite which is contains 80%-95% recycled materials depending on the brand. However, PVC is recyclable.
The PVC is pigmented for color, heated and extruded into decking planks, rails, posts and accessories.
Depending on the specific product, the grain is either pressed or cut into the material.
Top lines of plastic PVC decking are called "capped PVC" which means that the PVC core is coated or capped with a high-quality, high-durability PVC material that often contains minerals to create a harder surface. Capped PVC offers premium appearance and wear.
You'll find PVC decking in square-shouldered styles that are installed like traditional wood planks and grooved styles that install like tongue & groove planks with hidden fasteners. Some grooved PVC decking is snapped together. The most popular width by far is 5 ½". Plank lengths of 12", 16' and 20' are the most common. The thickness of PVC deck planks ranges from about 5/8" to slightly more than 1".
---
Things to Consider when Choosing PVC Decking

A PVC deck will cost you more in its first 5-7 years than a pressure treated lumber deck or a cedar deck because the initial cost is significantly higher. Somewhere between year 7 and 10, depending on how much you paid for the PVC deck, it becomes more cost-effective than PT lumber and cedar. This is due to the much higher cost of maintaining wood decks with annual or bi-annual power washing, staining and sealing plus the greater need for deck repair due to warped and cracked wood planks.
With that in mind, consider PVC decks vs. wood decks in light of how long you plan to live in your current home. It's worth pointing out that a PVC deck will be more attractive to many buyers because it will look better than a wood deck of the same age, and smart buyers understand the ongoing costs of PVC are much lower than with wood.
Woodgrain PVC decking looks like plastic, not truly like real wood, and it doesn't smell like wood. If the "genuine wood" experience is important to you, PVC might not satisfy.

---
Advantages of Using PVC for your Deck
The pros & cons of PVC decks can be compared to those of other materials on your short list. Here are its benefits:
Won't warp, crack or splinter like wood, and is more resistant to fading
No staining or sealing required
Insects are not attracted to it as they are to wood products
Highly resistant to staining and scratching
Doesn't allow mold or mildew to penetrate into the material as it can with wood and even wood/plastic composite
Minimal maintenance, involving scrubbing or a light power wash when needed
Slip-resistant finishes on many products
Class-A burn rating, so does not burn easily
About 40% lighter than wood/plastic composite decking, so easier to work with and install
No pre-drilling of holes is required as with some tropical hardwood
Most brands come with a 25-year or lifetime limited warranty against manufacturer defects
Disadvantages of Using PVC for your Deck
There are a few cons of PVC decks to consider before you make your decision.
Short-term cost is higher than PT lumber, cedar, redwood and composite, though the long-term cost is lower than all but composite
While treated with UV inhibitors to retain color, slight fading occurs over the years in some products
Available in 3 to 8 colors only from most manufacturers
Darker colors will absorb heat and might be quite hot underfoot in direct sunlight
Staining isn't possible, but some PVC decking can be painted
Some PVC decks will develop squeaky spots that might be difficult to silence
---
How Much Does it cost to Build a Deck Using PVC?

You'll find PVC deck planks in this price range:
PVC Deck Costs
 PVC Plank Dimensions
PVC Deck Cost Per Linear Foot
5 ½" PVC planks
 $3.95 to $5.95
A complete pvc deck usually starts with a pressure treated frame, not one made from PVC. Then, in addition to the PVC deck boards, PVC rails, posts, stairs, fascia pieces and accessories are added to complete your deck design. The estimates you receive from deck builders in your area should be in this price range.
| | |
| --- | --- |
| PVC Deck Material / Labor  | Cost Per Square Foot |
| Material | $8.65 to $17.95 |
|  Labor | $5.95 to $11.95 |
The PVC deck estimates you get will be determined by:
How complex the design is, with decks featuring multiple levels, stairs, intricate layout and more than four corners costing more than simple rectangle design
Who builds the deck, with one built by a professional deck builder costing more than a DIY deck or one built by a handyman
The time of year, with decks built during the peak season costing more than those built when contractors are less busy


Deck repairs cost more per square foot than building a new deck because repairs are more time-consuming and labor-intensive.
| | |
| --- | --- |
| PVC Repair Costs | Cost Per Square Foot  |
|  PVC decking repair labor cost | $9 to $15.50 |
---
Top PVC Deck Brands
Here is a list of the top-rated PVC brands available including our Deck Guides available:
Gossen Passport
CertainTeed EverNew
TimberTech XLM (Now an Azek brand)
---
Maintenance and Care of a Deck Built with PVC
This is a very low-maintenance product. Here's what it takes to keep your plastic PVC deck looking great.
Clean up spills promptly, though the material resists staining very well
Power wash the deck as needed using 1,300 psi and a fan-tipped wand, or as an alternative, use a deck cleaner and a stiff brush for cleaning
Inspect the deck twice a year for loose fasteners or boards, and make necessary repairs
Use a broom rather than a shovel for snow removal
---
PVC Deck FAQ
This PVC deck Q&A covers other important issues and commonly asked questions regarding your PVC decking.
A friend says he has a vinyl deck. Is that the same?
PVC is polyvinyl chloride. Your friend's deck is probably PVC, which goes by the names plastic, vinyl and synthetic too.
What's better, composite or PVC Deck?
Composite decking is a combination of wood fiber and PVC, for those who aren't familiar with it. See our Composite Decking Buying Guide for all the details. The materials in composite are mostly recycled from pre- and post-consumer waste. PVC is made from virgin material, for the most part, but it is recyclable.
PVC has the advantage of being more resistant to stains and mold penetration than composite. The upfront cost for PVC is 10%-25% higher than for composite, depending on the products compared. Both are resistant to warping, cracking, insects and fading. Composite decking can be stained, at that requires an investment of time and money. PVC doesn't require staining. Both materials should last 20-30 years with consistent care.
Can PVC decking be used around pools or hot tubs?
Yes. The material is slip-resistant and won't be harmed by pool or hot tub chemicals.
Will mold or algae grow on a PVC deck?
Mold and algae can grow on just about any surface, but they won't penetrate PVC or stain it, as they can do on wood or composite. Both are easily removed with a mild bleach solution and a brush, followed by hosing off the deck.
I'm going to install my own deck. What do I need to cut PVC?
A circular saw fitted with a 100-tooth carbide-tipped blade delivers the best results.
What joist spacing is optimal?
Most PVC decking should be installed on joists spaced 16" apart, though some material can be installed on 24" spacing. If you're installing PVC in a commercial setting, 12" spacing is recommended.
How long will my PVC deck last?
The material was introduced in 2009, so we're not sure how long it will last or look good. Estimates are from 20-30 years.
---
Looking for a Deck Installer or Deck Repair Pro?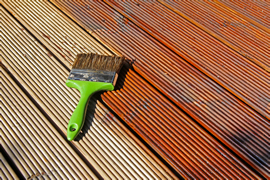 With any deck material, the quality of the installation is a big part of what determines how good the deck will look and perform. Quality installation is very important.
If you're ready to get deck cost estimates from contractors in your area, we can help you find the right mix of competitive price and an experienced deck builder. This reduces the hassle of contacting a list of contractors in your area and waiting for them to get back to you.
When you use our free service, you fill out one simple form with basic information about your project. Then, you receive written estimates from screened and qualified deck installers where you live. Again, there is no cost, and you are not obligated to take any of the estimates.

---
Related Deck Cost Comparisons