Cedar decking remains a top choice for decks due to a combination of compelling factors.
Cedar:
Is very attractive
Has natural moisture-resistant qualities
Readily accepts stain and sealer
Is an affordable deck material
While pressure treated wood decks are the most common, cedar wood decks make up a good share of the remainder.
This guide to cedar decks provides you with information about this deck material, so you can compare it to your other options including pressure treated lumber, redwood, IPE and other options. We include cedar deck pros and cons as well as cedar decking costs for you to review side by side with deck prices for other materials.
Finally, if you're looking for a  deck contractor for your cedar deck installation near where you live, the service we offer will help you find the lowest installation estimates from contractors where you live who are ready to compete for the work.
---
What is Cedar Decking?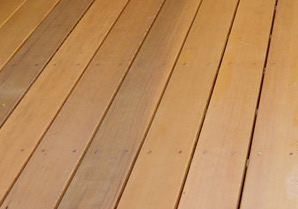 Cedar deck material is cut from the heartwood of the cedar tree. Cedars do well in wet areas because they produce natural oils known as extractives that make the wood resistant to rot. Having said that, it is still recommended that you seal your cedar decks to enhance the wood's resistant to moisture and decay.
Both red cedar and white cedar makes excellent deck material, though Western red cedar is considered to be the superior cedar decking material.
Most cedar decking is 5/4" thick, known as five-quarter decking. Boards 2" thick is available too. The most common widths are 6" and 8", and lengths range up to 20'. Note that 5/4" decking is acceptable for spans of 12" to 16" while 2" decking is suitable for a span up to 24".
Cedar decking is available in several grades, and the top grades are those that are relatively free of gummy resin. Those resins can hinder the absorption of stain and sealer, so resin-free material is the best choice for your cedar wood deck. Both knotty and clear cedar decking is produced by most manufacturers, so you've got a choice in the look of the wood you use.
---
Things to Consider when Choosing Cedar Wood for your Deck

If your top priority is a deck with a real wood look and feel, red cedar might be your very best choice. Knotty cedar decking offers a rustic/country look while clearer materials look fantastic with more sophisticated architecture.
While cedar isn't as corrosive to fasteners as pressure treated lumber, it still makes sense to use galvanized, aluminum and stainless steel wood screws. Avoid electro-plated fasteners as they're prone to quick disintegration due to a reaction to the natural oils in cedar.
The best nails to use, if you choose nails instead of screws, are thin-shanked, sharp nails rather than those with a blunt point. When fastening cedar planks within a few inches of the end of the plank, drilling pilot holes will reduce the risk of the wood splitting.
When choosing a stain for your cedar deck, look for one with the following characteristics:
Water repellent
Fungicide/mildewcide
Pigmentation that protects against UV light from the sun

---
Advantages of Using Cedar for your Deck
Let's look at the pros & cons of cedar decking, starting with its benefits.
Beautiful cedar delivers a natural wood look that can range from rustic to refined depending on the type and cut of the wood
It is naturally resistant to rot and insects
Better grades of cedar accept stain and sealer very readily to ensure longer-lasting good looks and performance
Cedar is resistant to moisture, so in addition to resisting rot, it resists the type of swelling and shrinking that leads to warping and cracking of the wood
Most cedar is harvested from sustainably managed forests, and the wood is renewable and biodegradable
Cedar is softer underfoot than pressure treated lumber
This material is quite light and very easy to work with when cutting pieces and installing the deck
The range of thicknesses, widths and grades give you a choice of finished appearance
A cedar deck that is maintained on a regular basis will last 17-20 years in most climate conditions
Disadvantages of Using Cedar for your Deck
There is no "perfect" deck material, so let's consider a few of the drawbacks of cedar decking.
Cedar requires cleaning and sealing every year to retain its rich color, and it will still fade significantly with age
The material is fairly soft, so it dents and gouges easily, and furniture and other heavy items should be picked up rather than dragged across its surface
Cedar costs more than pressure treated lumber, but it also costs less than materials such as composite decking
---
How Much Does it Cost to Build a Cedar Deck?

These cedar decking prices will help you estimate the cost of your new deck. Note that lumber prices vary from year to year based on supply and demand and other factors.
Here are current prices for cedar decking material.
Cedar Deck Costs
 Cedar Deck Dimensions
Cedar  Deck Cost Per Linear Foot
2"x4" cedar decking
 $1.75 to $2.20
 5/4"x6" cedar decking
 $1.75 to $2.25
 2"x6" cedar decking
 $2.50 to $3.10
 2"x8" cedar decking
 $3.35 to $3.75
 2"x10" cedar decking
 $4.65 to $5.10
Given these lumber costs, here are prices for all the materials plus the labor to build your cedar wood deck.
| | |
| --- | --- |
| Material / Labor  | Cedar Cost Per Square Foot |
| Deck Material | $4.25 to $9.00 |
|  Decking Labor | $3.50 to $7.50 |
There are several factors that create this wide range of prices.
The better the grade of wood is that you choose, the higher the cost will be
The more complex the design is and the more elaborate the accessories, the higher the cost will be
Decks built by professional deck builders rather than handymen who occasionally work on decks will cost more
Hiring a deck builder during the peak season in your area will cost more than hiring a builder at less busy times
You'll find the lowest prices from deck builders in your area if you request estimates from several contractors. Let them know they're competing for the work, and you'll receive their lowest bids.


Reviewing the cedar deck repair costs, Repairing a deck costs more per square foot than building a new deck.
| | |
| --- | --- |
| Repair Costs | Cost Per Square Foot  |
|  Cedar deck repair costs | $13.25 to $19.75 |
---
Best Cedar Deck Brands
These are the most respected brands among deck builders and DIY homeowners.
Western Red Cedar
Altruwood Alaskan Yellow Cedar
---
Maintenance and Care of a Deck Built with Cedar Boards
These tips will help you get the beauty and longevity you desire from your cedar deck.
Seal the deck within a few weeks of initial installation using a pigmented sealer for best long-term results
Space your cedar deck boards slightly apart to facilitate drainage and drying. This will prevent water absorption. For increased longevity, remove leaves and debris from your cedar wood deck on a regular basis
If you use a mat on the deck, which isn't recommended, choose one that is vented and made from inorganic material that won't absorb water
Planters should be moved around every few days to allow the wood beneath them to dry
Power wash your cedar deck annually, and re-seal it with a pigmented sealer once the wood has had several days to dry out
Note that oil-based stains are considered more effective while water-based stains are considered more ecofriendly
Check for loose boards, rails and treads and corroded fasteners every six to twelve months
---
Cedar Wood Deck FAQ
This brief cedar deck Q&A covers additional important deck information.
How is cedar deck material better than composite deck material?
Cedar costs less, won't heat up in the sun as much as some composites and is a more sustainable material.
Can my cedar deck be painted now that it is gray and dull?
Yes, cedar can be painted. If the deck has previously been stained with oil-based material, you might need to use an oil-based paint to get it to properly adhere.
Are there advantages in painting cedar decking?
Paint offers more UV protection than stain, and the coating created by high-quality paint might last longer and be more resistant to the penetration of moisture into the wood. The disadvantage is that you lose the wood look that stain preserves.
How many linear feet of decking are there in a square foot of deck?
A. It depends on the width of the decking. The Western Red Cedar association says that there are 3.25 feet of 4" board in a square foot and 2.1 feet of 6" material per square foot.
---
Looking for a Deck Installer or Deck Repair Pro?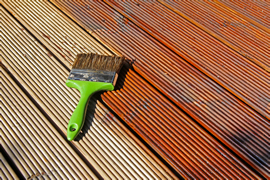 Our goal is to provide you with comprehensive deck information you can use to choose the right material and build a deck you'll love in the years to come. The quality of the deck installation is a major factor in how good it looks, how safe it is and how long it lasts.
Therefore, we want to help you find a deck builder in your area that will do a fantastic job.
Feel free to use our convenient, free service that requires filling out one simple form. You'll receive free written estimates from three qualified deck contractors who have been screened for experience. There is no cost or obligation for using the service.

---
Related Deck Cost Comparisons