There are several different types, styles and kinds of home deck for your outdoor space. With so many choices to select from it can be hard to know where to start for your deck installation. In this section of the Deck Cost Guide website you will find our guides on all of the most common types of decking material (e.g Aluminum, PVC), decking brands (e.g. TimberTech, Azek) and by decking type (Elevated Deck, Pool Deck). To make things really easy for you, we've included the common considerations, advantages, disadvantages, deck costs, maintenance and FAQ for each type of decking material, brand and type.
The following list is updated on a regular basis so be sure to bookmark this page and come back soon for more deck types and options.




---
Deck Guides By Deck Brand
Our Deck Cost guides by popular Decking brands, including brand information, individual pros and cons, then give a breakdown of prices and labor costs for each decking range offered by each brand.

---
Deck Guides By Deck Material
Our Decking Material Cost guides relate to popular material used for your home decks, including deck material information, individual advantages and disadvantages for each deck material, also we include costs and labor prices for each decking material and their installation.

---
Deck Guides By Deck Type
Our Decking Type Cost guides are for popular deck types and deck designs (e.g Elevated decks, Pool decking). Which include things to consider when choosing the right deck for your home, also the individual advantages and disadvantages of your chosen deck design or deck type, then we give example prices and labor estimates for each decking type and frequently asked questions.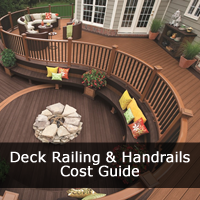 Within this Deck Guide we explain the deck railing types, deck railing styles, pros and cons and the Handrail codes standards that will need to met to allow a safe environment ...
Open Guide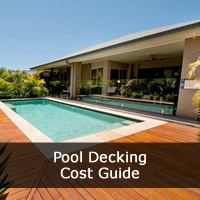 Within this Pool Deck cost guide, we highlight all the costs and common deck materials for the decking around your pool, including inground deck pools or above ground pool with ...
Open Guide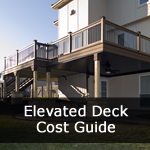 Elevated decks maximize your enjoyment of outdoor space around your home. They're especially popular on houses with a walkout basement, ...
Open Guide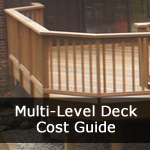 Multi-level deck design allows you to use your outdoor space to best advantage. Add a secluded upper deck outside a ...
Open Guide